Bruce Willakers

Name

Robert Muran

As known as

Rob, Rawb, Oldman, Will, Bruce

Youtube
BiographyEdit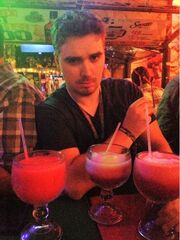 Robert Muran AKA Rob lives in Ontario, Canada. He is the creator of Unforgotten Quest; "a 2D CO-OP RPG. Loot, Levels, Skills, Classes, Quests, Bosses, Humor, Multiplayer, and most importantly, Time eater!". One of his close friends is Alex (PauseUnpause).
He has 5 youtube accounts. BruceWillakers , pkmnRob  , URtwoplayer, ThePMLTV and  Rurikar. Each of them has different content. His BruceWillakers account focuses on Minecraft. PKMNrob focuses on Pokemon, URtwoplayer focuses on 2 player games stars Roamin' and Rob and Rurikar focuses on Rob's World of Warcraft "Unforgetable Realms" series.
BruceWillakersEdit
In this channel, Rob plays alot of Minecraft. Mostly about Dwarves vs. Zombie in the Bruce's Gym server (now called PlayMindcrack). Rob calls his fans "Jimmies". His first ever (and only) appearance in Mindcrack UHC is in Season 13 where he was placed in the team "Old-BdoubleO-Ratt-Bling" Which consists of BdoubleO100, Himself, Pakratt0013 and SethBling respectively.
pkmnRob is his Pokemon channel where he only uploads pokemon content. Most of his Let's plays is in Hardcore mode (nuzlocke)
URtwoplayerEdit
Rob and Roamin are the people who hosts their two player let's play gaming show. Most games they play are NES titles.
Rurikar22 Edit
This is Rob's first channel, this channel has been abandoned since Rob made his BruceWillakers channel. His Unforgettable Realms series is the most notable series in this channel.
ThePMLTV Edit
On this channel, Rob uploaded Minecraft-only content. later in the channel's life, he used this channel as a DvZ video host. This Channel has since went inactive.
Ultra Hardcore (UHC)Edit
Rob has been invited as a special guest to the Mindcrack UHC season 13 as well as Dinnerbone. Rob has been placed to a team consisting of BdoubleO100, SethBling and PakkRatt. They called themselves "Old-BdoubleO-Ratt-Bling). Rob won the season with Sethbling after killing Guude (and his horse).
Association w/ MindcrackEdit
In the video Announcement: BrucesGym Merges with Mindcrack! Bruce stated that his server and Mindcrack will merge into a new minigame server which is called "PlayMindCrack" where him and Guude are maintaining.